MY CHILDHOOD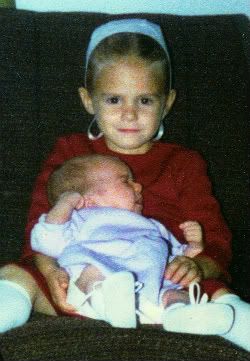 That's my sister holding me, aren't we adorable?!
My life began as the youngest of 3 children on a farm in an Amish family. My parents left the Amish church soon after I turned two and went a step farther into the Beechy-Amish Church. I mention this only because frugality was a way of life for both of these faiths and there are many things that I have learned over the years that I used to take for granted. There are many things we did, that I never knew anyone would do differently.
My mom cooked from scratch and we had a garden when I was younger, before my parents started their own business. Mom was frugal and I learned many great lessons from her. Until we became Conservative Mennonite, Mom made all of my clothing. Once we did start buying clothes, we went to Goodwill. My parents still shop at the Goodwill and probably will forever!
One lesson I will never forget: unless Mom & Dad had the cash to pay for something, they wouldn't buy it. As they started their own business, times would be tough. One year, I remember I had to wait to buy my shoes for back to school time until a job was done. It was hard as a kid, things like having brand-new shoes for when school starts seem important. But that experience made such a wonderful impression on me. I don't look back on it as something bad, but a dear life lesson on how debt was not an option.
Mom hated debt and would worry constantly until they were debt free. I still remember when my parents paid off their house. The relief they felt was something that even I, as a child, could feel. I wanted to be like them, but unfortunately I had to learn some lessons myself.
Amish children start to pay for their own things when they are 16. Even though we were no longer Amish, that was still a strong ethic in our family. So at 16 I started to pay for most things myself. I worked at the family business after school and as much as possible over the summer. I paid for my schooling, I was the first and only one in my family to graduate from high school, however my sister later went back and got her GED. My parents did pay for my car, for which I am grateful. I had to pay for insurance, gas and repairs myself, along with clothing and any entertainment I did on weekends. This taught me some great lessons. I became quite a saver and had a little nest egg by the time I was ready to get married to my high school sweetheart.
To Be Continued....