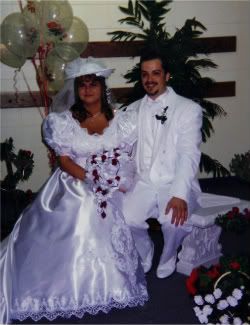 The Honeymoon
Straight out of high school I married the love of my life! We were broke and in love! I think most people start out that way!
The nest egg I'd been saving was used used to pay for surgery on his arm. I didn't want to start our marriage in debt. There was a problem with paying that medical debt though, we had no money to go on a honeymoon.
I wanted to stay home and be happy we were married, but he wanted to give me a great honeymoon. Finally, I was convinced to finance our honeymoon on our credit card, since it was a once in a lifetime event. I knew that we needed to live on less than we made, but....
We went on a 2 week honeymoon.
We used the cash from wedding gifts to pay for things we were doing while on the honeymoon. When that money ran out, I just couldn't have any more fun. So we left for home half a week early. While we paid cash for all the little stuff our hotel stays were on the credit card.
The credit card bills came in the mail and I just couldn't stand it. I discovered that I do NOT like debt,
I am my mother's daughter
after all!
Early Marriage
We struggled for about six months at our first low paying jobs and then we both started working at my parents business and worked as much overtime as we could. We paid off the credit cards and felt much better. Unfortunately we hadn't learned our lesson. We found a Jeep that was so nice and shiny and we could afford the payments...
That Jeep was a lemon! We had problem after problem with that vehicle. And the payments made things tight and it made me remember that
I don't like payments!
We made the decision then and there that we would NEVER have another car payment. And we haven't. Even though we've been in many scrapes in our married life and made more dumb decisions, at least we've not had a car payment.
To Be Continued....
Part I: My Childhood
This post is linked to
Frugal Friday,
and
Thrifty Thursday
.