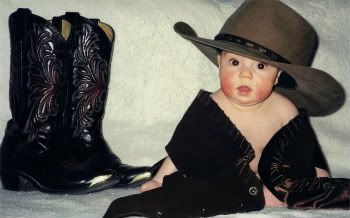 That's my son at about 5-6 months, wasn't he beautiful!!! I used to love to take creative pictures!
Starting a Family
I became pregnant and realized my dream was to stay home with my family. My husband went into the drywalling business with his father. He made pretty good money and I was still working 3 days a week. It was a fabulous time for us financially. We made strides in all we were doing. We had a few ups and downs, but basically we came out on top and had two wonderful children during this time.
We bought a piece of land, on which we dreamed of building one day. The payment for the land made things very tight once again. We didn't foresee being able to build on that land any time soon in the future. God was so gracious to us and had a buyer come and offer us more money than we'd ever dreamed of for that land. We sold it and became COMPLETELY debt free house and everything.
This part of the story still brings a pit to my stomach.
Hasty Decisions
We finally felt like some doors were opened for us. We were too hasty and made too many decisions, too quickly. It was a year full of stress.
I had a miscarriage and we realized I needed surgery from an injury I received as a result of giving birth to my older two children. There would be problems having more children if I didn't have this surgery and it would take care of some problems I had as a result of this injury. So I went to Indianapolis, four hours away from my family. I was gone for a whole week. It was the longest I'd ever been away from my family. I came back home and the healing process went as well as could be expected. I desperately wanted another child, so we became pregnant with our 3rd as soon I was allowed after my surgery.
My husband did not enjoy drywalling and always dreamed of going into law enforcement. So he left his great paying gig and went to a very low paying job in the field of his dream.
We also, at this time, decided to sell our paid for house. Our house sold within the first week and we quickly found a great fixer upper. We were trying to make sure we stayed in a good price range for our new income. We did good with that part, but unfortunately it cost much more than we anticipated to do our renovation. We were doing most of the work ourselves, but things kept popping up. My husband was gone all the time and I was pregnant with our third child. Emotions were out of control to say the least!
I was still working part time, so things were going pretty good. We just didn't need anything to tip the precarious balance we had. Unfortunately, changes were not over and the scales were going to be tipped, and not in our favor.
To Be Continued....
Part I: My Childhood
Part II: The Honeymoon & Early Marriage